Green Building: Creating a More Eco-friendly Denver Home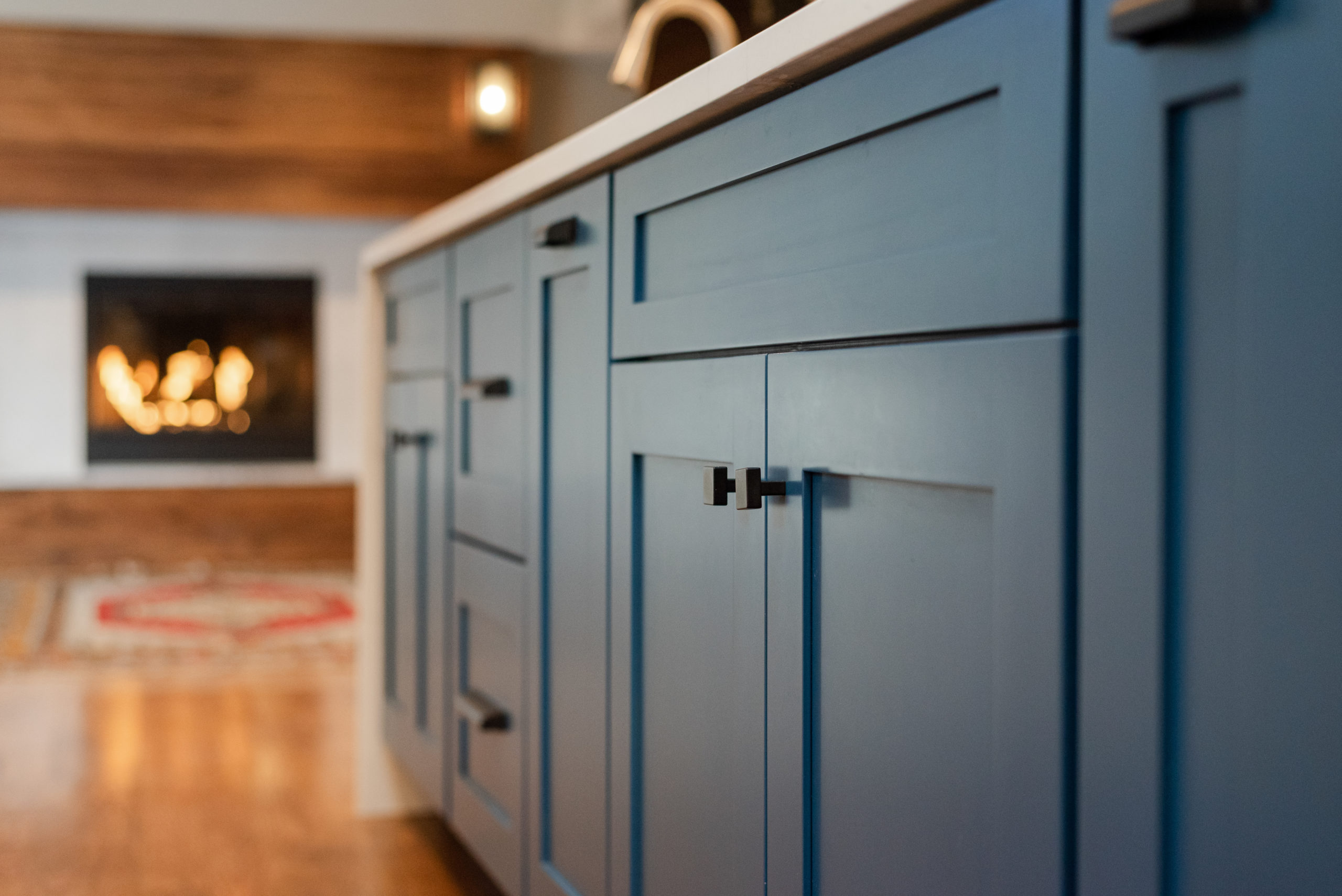 The green movement isn't going anywhere. With consumers having a more heightened idea of how the products and services they purchase affect the world around them, more and more people are beginning to shop green. Whether it's researching where and how a product was sourced or paying extra for clothes made from sustainable materials, consumers are looking for ways to reduce their carbon footprint through their spending.
One subset of green consumerism is green building—with prospective and current homeowners looking for ways to create a living environment that eliminates wasteful energy consumption, effectively limiting their impact on the world.
Gather & Spruce understands the importance of creating homes that are respectful to the environment. In fact, we're a LEED-certified business. Whether it's being conscious of the lumber we source for cabinetry, working with vendors that are committed to creating a more sustainable planet, or recycling and donating materials, we're continuously looking for ways to introduce green building into our services.
Below are some of the key ways we do just that.
Fireclay Tile Collaboration
One of our go-to vendors is Fireclay Tile, which was the first tile company to be a certified Benefit Corporation (or B Corp). With an impressive B Impact Score of 115.4, Fireclay Tile ranks among the top 10% of businesses committed to creating a more sustainable and equitable planet for all.
Fireclay is a great example of how you don't need to compromise on style or function to create a more eco-friendly design, as this bathroom remodel shows:
Using Eco-Friendly Shower Heads
Water waste is something we should all be considerate about when it comes to our homes. Did you know that the average person uses about 80-100 gallons of water per day? It's because of this that many producers of toilets and showerheads are designing products that use less water.
For example, at Gather & Spruce, we partner with Nebia, which has a shower head that saves up to 65% of the water that normal shower heads use. Just like Fireclay, Nebia is also committed to helping to create a more sustainable future for everyone.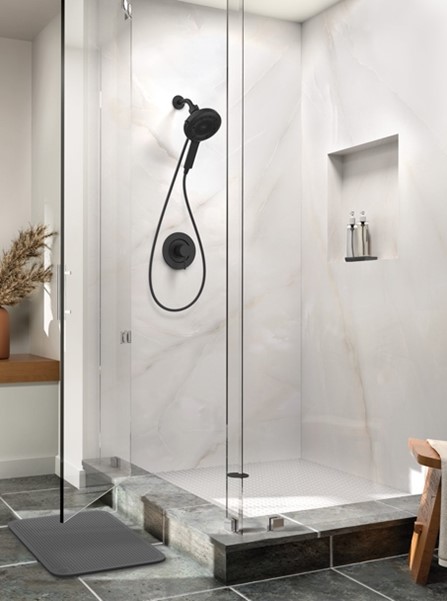 Installing Toto Washlets and Dual Flush Toilets
Installing both toilets with bidets and dual flush capabilities can help you dramatically cut back on toilet paper and water use. Did you know that Americans use about 36.5 billion rolls of toilet paper annually? To produce that amount of toilet paper, 15 million trees and 473 billion gallons of water are needed. A Toto Washlet toilet can help you reduce your toilet paper waste with a sanitary and hygienic bidet. Meanwhile, dual flush toilets can help you save 67% of the water that a traditional toilet uses.
As an added bonus, these more sustainable toilets also look great, as evidenced by this recent Gather & Spruce bathroom remodel.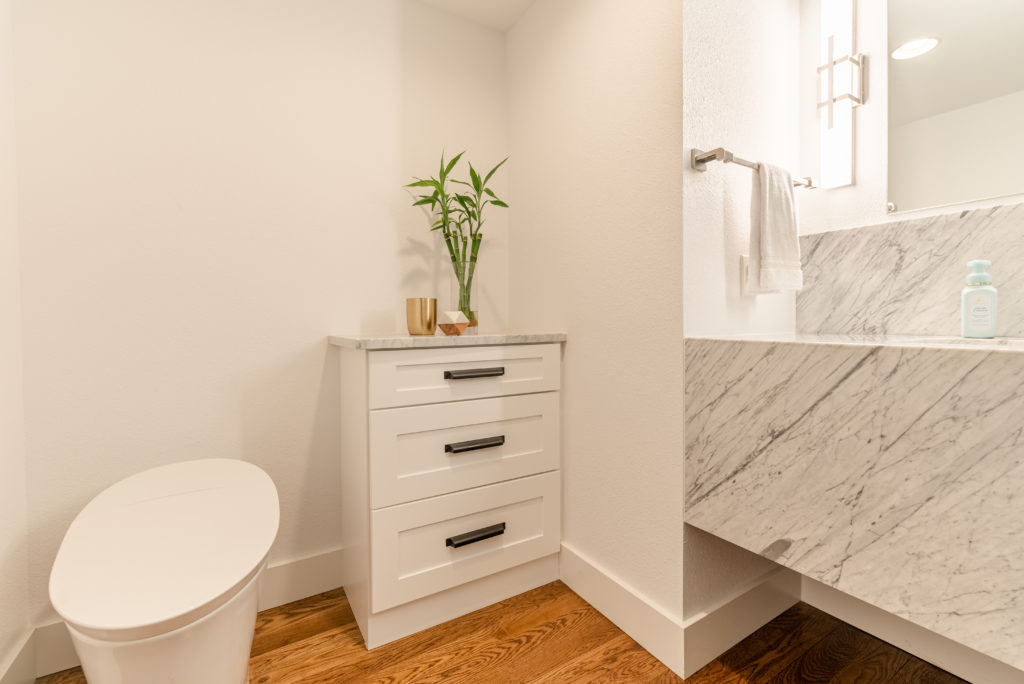 Installing Green Cabinetry
Using natural materials in your Denver remodel or build is often considered a smart way to incorporate green building techniques into your home. However, it's important to make sure that you're sourcing those materials from the right place. With Woodland Cabinetry, you can be confident that you're receiving high-quality cabinets that are sourced responsibly.
Woodland Cabinetry is also a member of the Kitchen Cabinet Manufacturer Association's Environmental Stewardship Program. In addition, Woodland takes additional steps to protect consumer health, reduce waste and protect the environment. This includes grinding up scrap wood for use in animal bedding and adhering to the strictest formaldehyde standards set forth by the California Air Resource Board.
Take a look at their beautiful cabinetry in action in this recent Denver remodel, which included revamping the kitchen and fireplace:
Being Mindful of Waste  
Internally, we want to be smart with the materials we're using. In some instances, we may have some excess materials after a project. Instead of throwing them away, we donate them to Habitat for Humanity, a nonprofit that creates affordable homes for all. In addition, we'll donate materials to Bud's Warehouse, a job training program for individuals rebuilding their lives. You can read more about the awesome work Bud's Warehouse is doing here!    
Additional Tips to Make Your Home More Eco-Friendly
To ensure that you create the most green-friendly home you can, here are some other ways to make your home more sustainable, as well as some helpful articles for further reading:
Articles with more information on green building and home design:
Want to introduce more green elements to your Denver home with a remodel? At Gather & Spruce, we'll not only help you integrate more sustainable details into your home, but we'll also help create a more functional space that is in line with your style preferences.
Our simplified process also makes this easy for you, as you can choose and test materials and products without ever leaving your home!
To get started on your Denver remodel, reach out to us today!