Kitchen Remodel ROI: Best Kitchen Upgrades to Make in Your Denver Home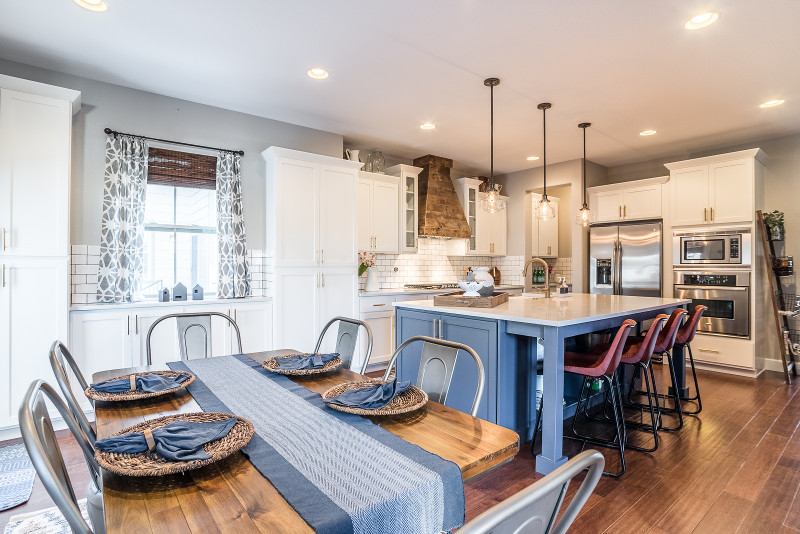 We're in the midst of a hot real estate market, with no signs of slowing down. Whether you're looking to increase your home's resale value or simply want to improve the functionality and looks of your interior, a kitchen remodel is one of the best ways to do just that.
A kitchen remodel ROI can be quite fruitful, with the average costs recouped for minor and major kitchen remodels in the Denver area being 62% and 81%, respectfully. That is higher than the national average, which is 72% for minor remodels and 54% for major ones.*
It's clear that Denver homeowners are well-positioned to capitalize on kitchen upgrades. But which is the right type of remodel for you? What are some of the best upgrades you can make to your home? And finally, what are some other parts of your home that are worth remodeling?
Updating Your Kitchen vs. a Complete Kitchen Remodel
When it comes to your kitchen remodel ROI, a minor update to your kitchen will end up being closer to breaking even. But a full-scale kitchen remodel can be more beneficial in other ways, such as creating a more modern, functional space, as well as helping get the home off the market faster if you're looking to sell. There really is no right answer to which is better, and what it may come down to is your budget.
"There are some general rules of thumb I use, such as spending 5%-15% of your home's value on a kitchen project," says Cherstin Toney, Owner and Creative Director of Gather & Spruce, on how to properly allocate your budget for a remodel.
While a more expansive kitchen remodel can completely transform and update your interior, minor kitchen updates can still bring some fresh, new life into the space. If you're not quite sure which is the right option for you, reach out to us to set up a consultation meeting. We can go over your budget and goals for your project to help you choose the right type of kitchen remodel.
Kitchen Cupboards: New Paint or Custom Replacement?
One common kitchen update is the cupboards. Swapping out or painting your current cupboards is a great way to modernize your kitchen and bring it up to your current style preferences. But what's the better option? This is a question we get quite a lot from clients, and here are some of the questions we ask to help them find the answer.
Are Your Current Kitchen Cabinets Functional?
Functionality is essential for your kitchen cabinetry. If your cabinets have seen too much wear and tear beyond repair, it may be time to swap them out for some new ones.
Do They Offer Enough Space?
Perhaps your family has grown since you originally bought your home or installed your cabinets, and you're requiring more space in your kitchen for storage. If you're finding that your cooking appliances, food and anything else you're storing in your kitchen are looking cluttered, upgrading to new custom cabinets may be the way to go.
Are They Out of Style?
Sometimes even the freshest coat of paint can't modernize an outdated style of cabinetry. If you're no longer in love with the look of your cabinets, it may be better to ditch them for more modern options.
Best Kitchen Upgrades That Offer Great ROIs
In addition to upgrading your cabinets, here are some other potential kitchen upgrades:
Expose some shelves
Add a backsplash
Add more natural lighting
Replace the faucet
Add a kitchen island or open the space up by removing an island if you don't use it
Upgrade your appliances
Bathroom Remodel ROI: Why Your Bathroom is Another Great Part of Your Home to Renovate for ROI
A Kitchen remodel is not the only upgrade you can make to your home that can bring a good return on investment. The average bathroom remodel ROI is also quite high, especially in the Denver area. For midrange bath remodels, homeowners can expect a 65% recouping of their costs. For an upscale remodel, a recoupment of 61%* is common.
Just like the kitchen, your bathroom gets a lot of use. So, if you're planning on staying in your home for a while longer, you deserve a bathroom you love. If you're considering selling your home soon, prospective home buyers will certainly be taking stock of the bathroom situation, making it a worthwhile investment to help improve your home's resale value and get it off the market faster.
Some potential bathroom upgrades to make for your remodel include—from simpler options to those that are more elaborate:
Install new cabinets
Add a walk-in shower
Add new lighting
Update the hardware, including faucets, towel bars, handles, doorknobs, etc.
Replace outdated countertops
Replace tile
How a Simplified Process Makes Your Remodels Easier
At Gather & Spruce, we believe that your quality of life is tied to the functionality and beauty of your home. With our Smart Design program, you can make it easy to improve your life, elevate your style and create the remodel of your dreams. Our homeowners truly appreciate that our remodeling process allows you to choose the perfect layout, products and materials all from the comfort of your home.
And, thanks to our extensive relationship-building with local contractors, you can be confident that your remodeling plan is executed to perfection. We only work with the best of the best because that's exactly what you deserve.