Interior Design Trends: 5 Things to Consider for Your Next Remodel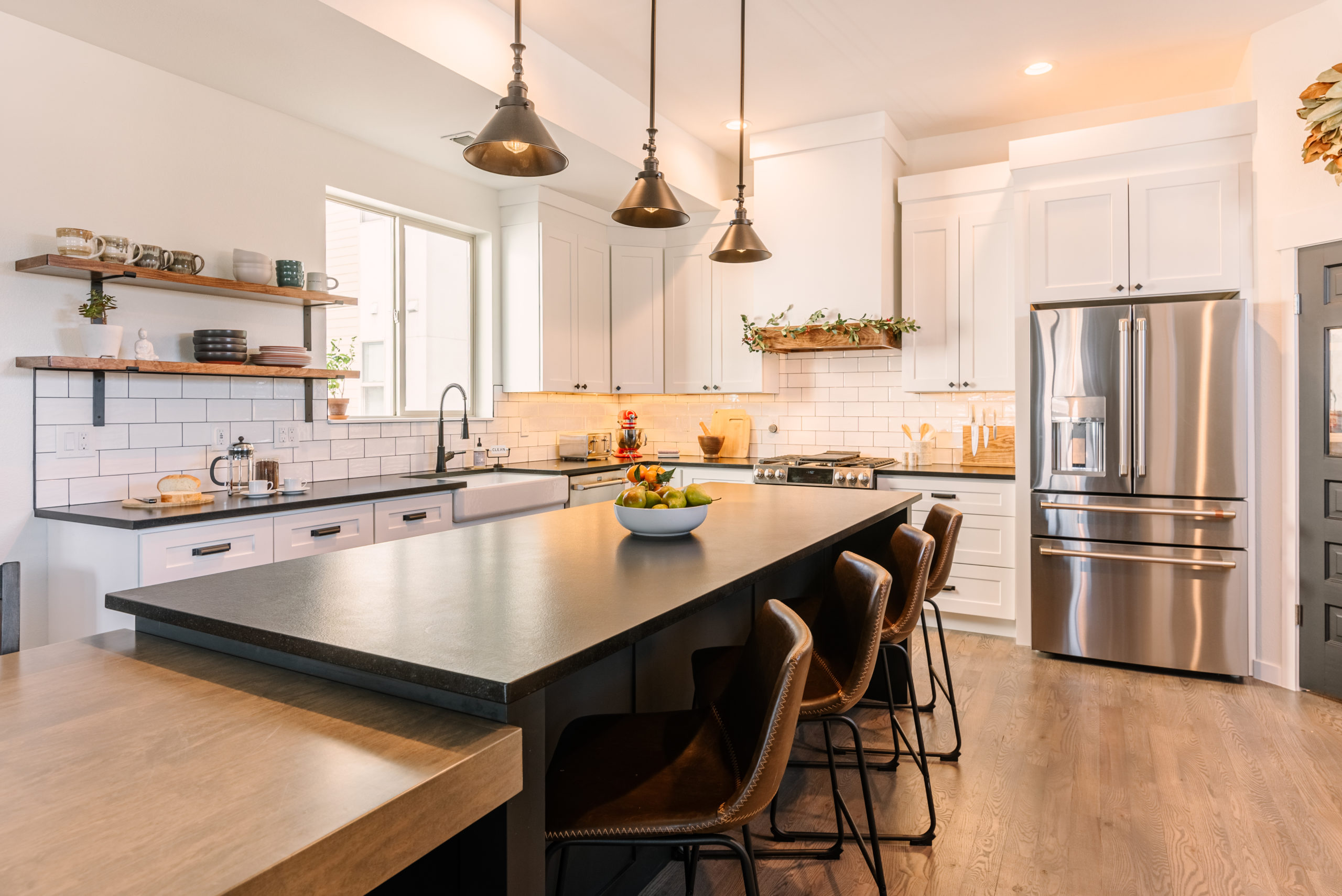 When working trends into your remodel design, it's important to draw from trends that are going to be relevant years from now. While some interior design fads come and go, many will be here for the foreseeable future.
To ensure that your next remodel is one that is built and designed to last, here are 5 interior design trends that will look good for years to come.
An All-in-One Shower and Bath Wet Room
There are many benefits to adding a wet room to your bathroom. In addition to looking absolutely stunning, they create a highly functional, easy-to-clean space that makes it easy to maximize your space.
In a recent remodeling project we worked on, we created a modern, functional wet room to help our client get the most out of their bathroom without compromising on style.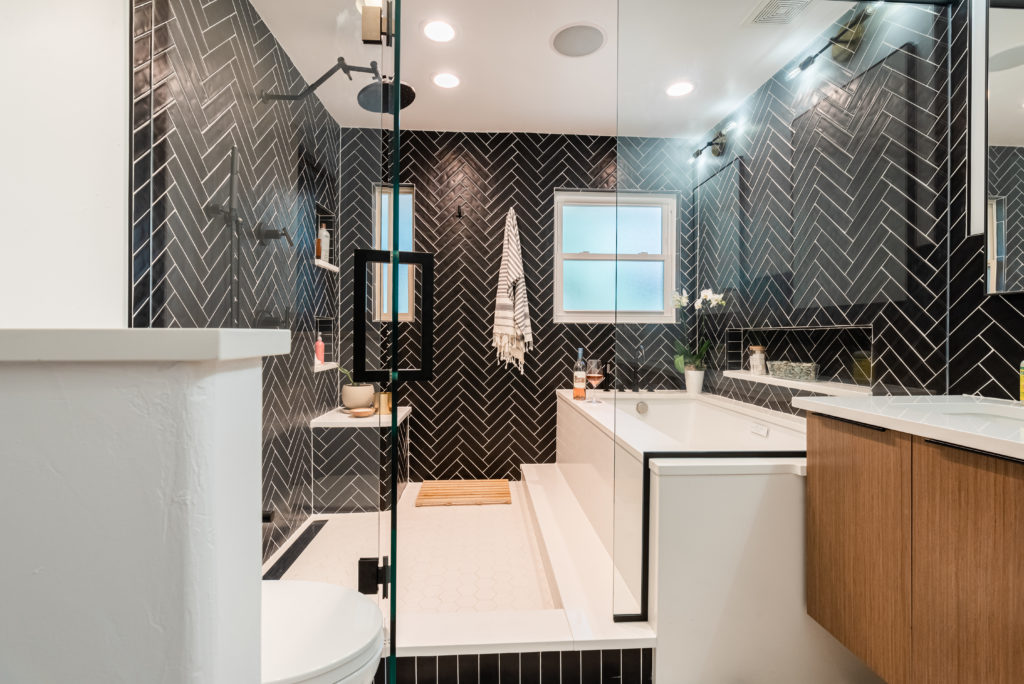 Nature-Inspired, Organic Color Palettes (Ecostyle)
Another popular interior design trend is the use of natural and organic color palettes. This style, known as ecostyle, is all about bringing some of the elements of the outdoors indoors. Finding a way to tastefully merge the outside with the inside of your home is a trend that has been gaining steam for a while, and now is the perfect time to add this remodeling trend.
Whether you decide to fully embrace ecostyle or go a little more subtle, there are plenty of ways to add some natural tones and features to your home. Some common ways to integrate ecostyle into your remodel include adding textured stone, marble and light wood. Also, colors such as greens and blues help to bring the tones of the outdoors inside.
Adding light wood floating shelves to their kitchen, this client of ours was able to add the perfect amount of ecostyle to their home.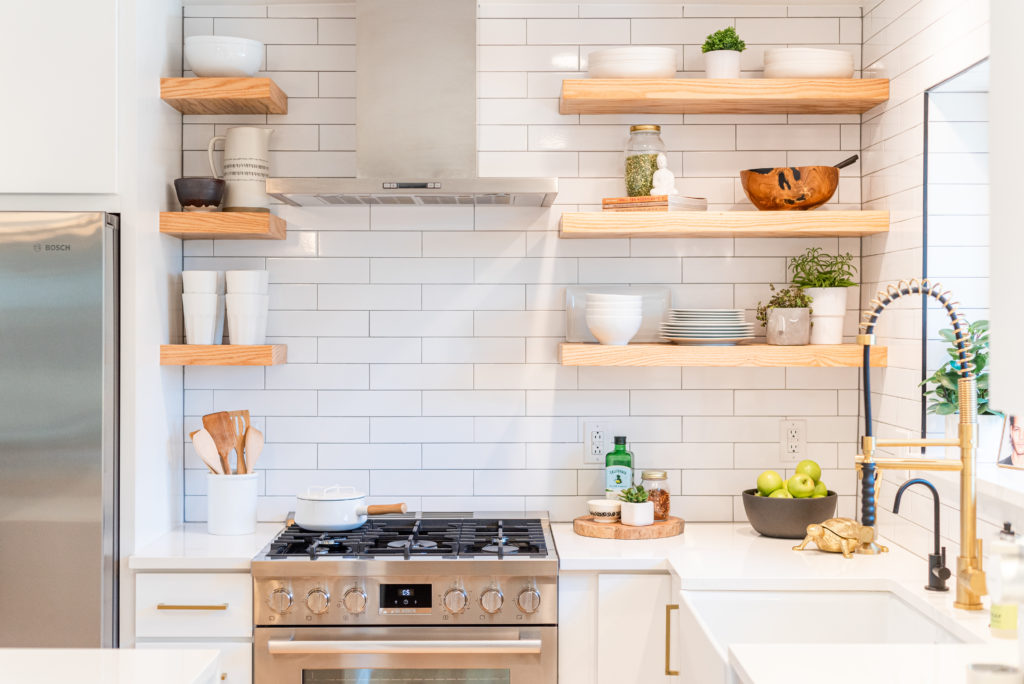 Multi-Functional Appliances and Accessories
Above all else, a home needs to be functional. If you feel like you're not getting the most out of your home from a livability standpoint, incorporating more functional—especially multi-functional—appliances and accessories into your home is a great idea. Whether it's a sink that can serve as a cutting board or a drawer that doubles as a prep station for cooking, there are plenty of ways to add some more functionality to your home.
The key is to never compromise on style for your functionality. At Gather & Spruce, we believe that style and function go hand-in-hand. Before we start designing your remodel, we'll go through which interior design trends you're interested in, as well as your style preferences and functional needs.
Learn more about our signature process that keeps things simple for our clients. And, if you're ready to take the first step towards turning your Denver home into a functional, timeless space, reach out today to request a consultation!
Bold Colors (Newstalgia)
Dubbed "Newstalgia," using bold colors such as pink hues or black soapstone on countertops or elsewhere throughout your home is a great way to add some flavor to your space. This trend is a bit of a throwback, but when done right, it can marry modern elements with traditional ones. In addition, you can explore the richness that raw materials like brick and stone can have throughout your home.
Art Deco Luxury
Art Deco is yet another top interior design trend for 2022 and beyond. Art Deco is all about elegance, originating from the interwar period—or the Roaring Twenties. Of course, this doesn't mean you need a complete overhaul of your home, turning it into the mansion from the Great Gatsby. Instead, you can add classic elements throughout the home that call back to these times.
Beautiful, elegant lights in this kitchen with more traditional cabinetry styles and tones help to create an elegant, art deco luxury look in this Gather & Spruce remodel.
Make sure to check out the rest of our blog for more interior design tips and other top design trends!