Best of Show – Bright & Bold Baths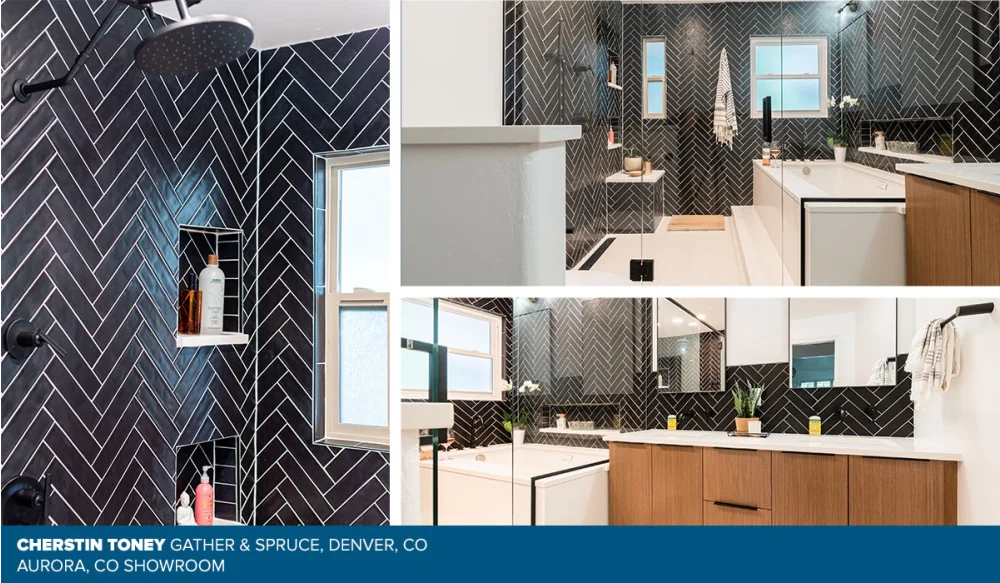 Gather & Spruce was featured by Build with Ferguson for our beautifully designed, herringbone black and white spa in Aurora, Co.
Herringbone Black and White Spa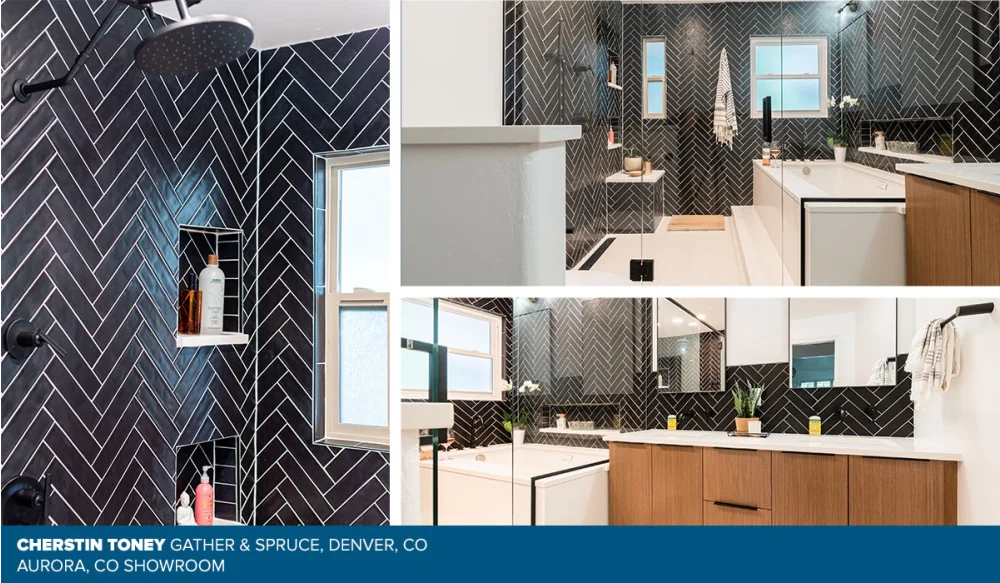 Gather and Spruce holds itself to a high standard of design for its clientele. Their belief is that quality of life is directly tied to the beauty and functionality of one's surroundings. Their founder, Cherstin Toney, has the raw talent, education, and experience to bring a fresh and timeless perspective to every project.
With every job, Gather and Spruce makes a commitment to maximize value and bring together smart design, products and services that suit every client's personal taste and lifestyle. They have a very collaborative design process with clients and how they function and operate in their homes, looking for existing inspiration throughout the home, either in physical aspects such as existing art, or architecture of the home. Gather and Spruce believes the space should give a nod to the uniqueness of each individual occupying the space, while being beautiful and functional.
This property, a ranch located in Crestmoor Park in the greater Denver area, was built in 1955 and converted to California Modern Style: with white walls, light floors and open and airy warm elements throughout. A unique thing about this property is that many features were built throughout the kitchen and bath to make life more convenient for German wirehaired pointer Stanley and Irish Wolfhound, Mortimer.
For the bath, they transformed an old school primary bath with a corner jetted tub, small shower and open, exposed toilet into a beautiful, functional, updated space featuring a large shower, wet room, and jetted tub. The half wall creates privacy for the toilet and floating vanity as well maximizing floor space. 
For this primary bath remodel, the design played with pattern to create a bold visual impact (the designer credits the tile installer who nailed the herringbone, which they say is easy to flub!). The rift-sawn white oak floating vanity adds a perfect touch of warmth and texture to this cool and modern space.