Kitchen Remodeling Ideas: Five Ways to Refresh Your Kitchen in 2021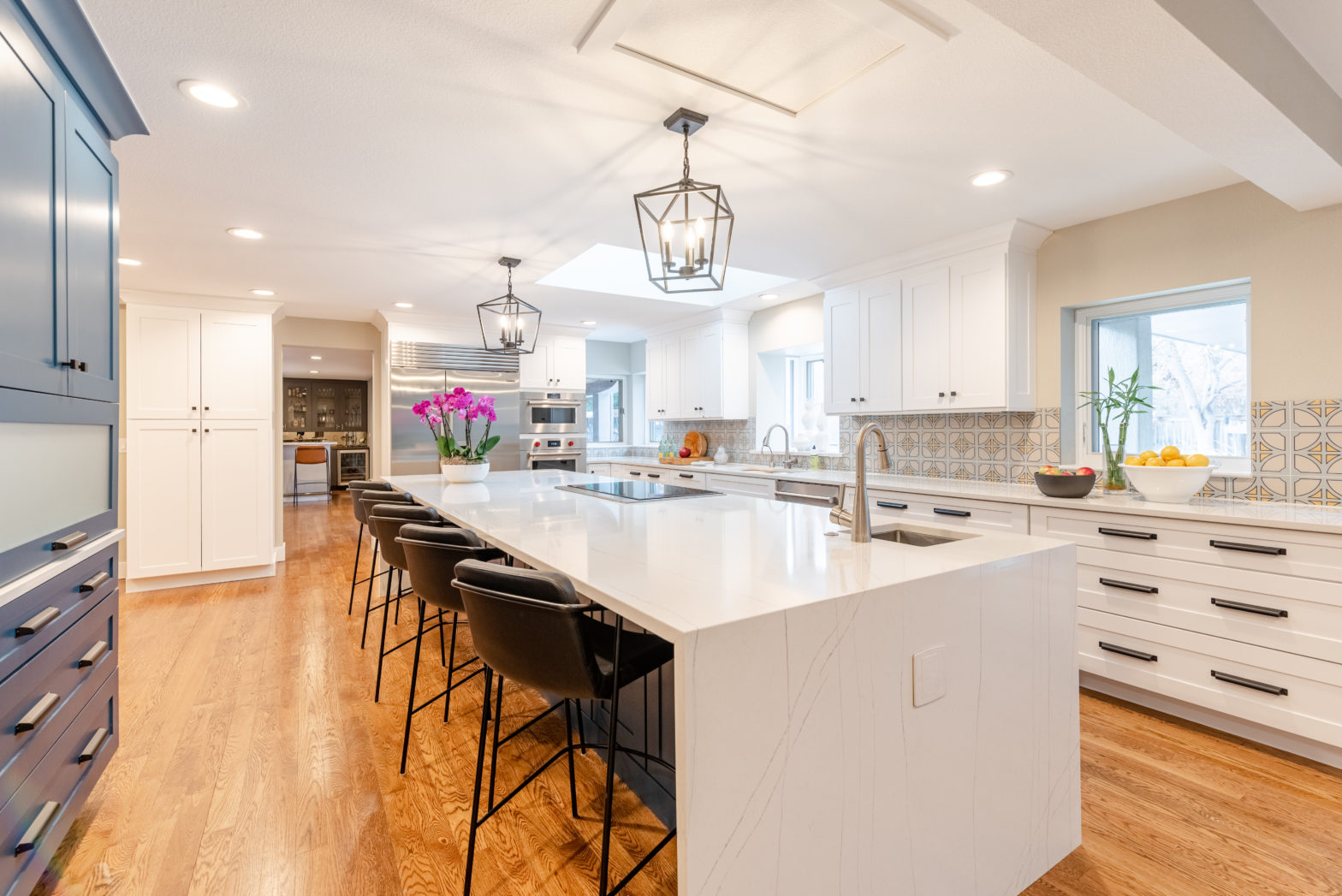 Thinking about refreshing your kitchen this year, but aren't quite sure where to start? We've got you covered! The key to a successful kitchen remodel is to ensure that the additions or alterations are going to be stylish for years to come. To make sure that your kitchen remodel is something you'll love forever, we've outlined five kitchen remodeling ideas that will be trendy today and timeless tomorrow and years from now.
And, if you're looking for a professional design team that offers a simplified solution for remodels, look no further than Gather & Spruce. We firmly believe that quality of life is directly tied to the beauty and functionality of your interior space. With our Smart Design program, we can help alleviate some of the stress of remodeling projects by bringing the materials and products to you, where they can be ordered from the comfort of your home.
Whether it's a large or small kitchen remodel, we are committed to maximizing your home's value. Request a consultation to get the conversation going!
Five Kitchen Remodeling Ideas for 2021 and Beyond
Add Extra Counter Space
What Gather & Spruce Founder Cherstin Toney says about counter space: "Maximizing Space in a kitchen is crucial. In particular, it's essential to have dedicated work areas that are large enough to function as prep space."
First and foremost, a kitchen should have everything you need to prep and cook your favorite meals. If you feel as though you're a little cramped in your kitchen while cooking, adding extra counter space is a great way to remedy the issue.
One way to do this is by adding an island if you have the space for it. If not, another solution is to integrate built-in appliances. Both of these options will help you free up precious counter space that will make for a more functional and overall enjoyable cooking experience.
Embrace the Open-Concept Kitchen Trend
What Cherstin says about the open-concept Kitchen: "Kitchens should feel open and inviting. We will often remove walls to create a more open space and help all areas of the home interact with one another."
Open-concept kitchens have been a popular choice for homeowners for quite a while now, but this design trend isn't going anywhere. In addition to providing plenty of functionally and space to move about and cook up your favorite meals, open-concept kitchens have the potential to look stunning.
People tend to spend a lot of time in their kitchens. When that space feels more connected and flows from one room to the next, it can make that time spent there that much more pleasant.
Look for Ways to Improve Your Kitchen Lighting
What Cherstin says about kitchen lighting: "People are spending more and more time in their kitchens. For this reason, it's important that this space is a place of inspiration and that they'll enjoy spending time in. Adding windows and better lighting, as well as removing bulky upper cabinets and replacing them with floating shelves, all allow for more light."
When it comes to improving the kitchen lighting in your home, adding a skylight can help kitchens of any size feel brighter, more cheerful and more open. As mentioned, removing heavy cabinetry and adding floating cabinetry is something we do quite often here at Gather & Spruce. This leads to beautiful, less cluttered spaces.
Incorporate Family-Friendly Kitchen Design Elements
What Cherstin says about family-friendly kitchen designs: "Strategically planning a kitchen that will be accessible to little ones with lower storage for plastic cups and plates allows for independence."
Your kitchen may not have been originally designed with the idea of making it accessible for everyone in the family. Some potential solutions for creating a more family-friendly kitchen design include adding a snack bar, making the pantry more accessible, incorporating easy-to-clean surfaces, and a refrigerator that has plenty of storage and drawers for divvying up snacks.
Create a Kitchen for Entertaining
What Cherstin says about creating kitchens for entertaining: "Our kitchens are the heart of the home, and this will always be the case. Relationships are built, tummies are nourished, and celebrations are all had within this incredibly beautiful and complex place."
Ensuring that you have enough seating options in your kitchen is important for creating a space that is ideal for entertaining. Whether it's simply adding a table with chairs or built-in seating, the addition of more seats will help ensure that everyone has a seat at the table for socializing and bonding.
Ready to put these ideas into action? Reach out to us today to get started on creating your dream kitchen!